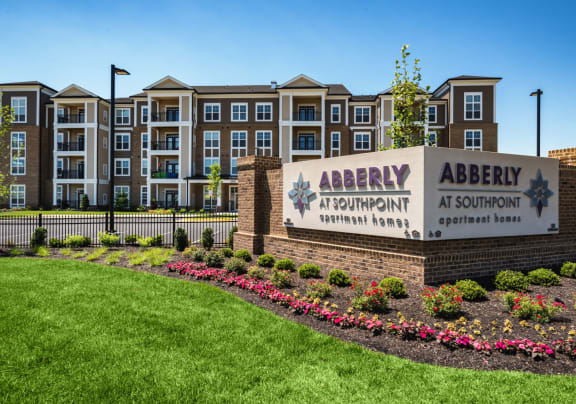 Abberly at Southpoint is a new and vibrant community that offers a fresh perspective on apartment living in the Fredericksburg and Spotsylvania area. With a perfect blend of thoughtfully designed floor plans, outstanding features, and a desirable location, residents are sure to experience life through a new point of view. This central location between Washington DC and Richmond Virginia just off Interstate 95 and Jefferson Davis Highway, in Fredericksburg, VA, is just minutes from Spotsylvania, 6 miles from the Spotsylvania VRE Station, 28 miles south of Quantico, and 35 miles from Dahlgren. After a long week, residents can relax with life's necessities close by at the Southpoint Shoppes or Cosner's Corner, or absorb the local charm of the area by dining local, playing outdoors, or visiting Historic Downtown Fredericksburg. All of this, plus a customer service promise backed by the HHHunt brand.
Testimonials
Excellent crew... they've help me out more than just this once... thanks! Excellent overall team here at Abberly Southpoint!
Abberly at Southpoint is a wonderful place to live as they pay fine attention to detail and care for the residents of the facility as part of their own family. The entire facility, from the apartments themselves, to the pool area, gym, etc. are so well kept and cleaned thoroughly on a consistent basis. Could not be happier with this place as a whole and I have recommended it to many of my peers.
I just love living in Abberly for the past 2 years and there amenities are awesome. I love the location since it's in the middle of everything! One of their highlights is their maintenance team willingness to help, and the cleaning crew always keeps all building in top shape!
The apartment complex is nice and always well kept. Never had a bad issue with staff, especially Maurice. He's a great staff member and has helped with all questions I've had during my time here. I would recommend this complex to anyone that's interested.
Great community with wonderful attentive staff
I really liked/felt comfortable living in this safe community for over three years!
Living here is great, they take the time to know their residents and they pride themselves on how clean they keep the buildings and common areas. Would definitely recommend to anyone looking for a place to live!
I love living here! Maintenance requests are taken care of immediately and thoroughly. The management office staff are always friendly and helpful as well.
The staff here is amazing. Literally the best leasing and maintenance team duo you could ask for in an apartment complex.
This was definitely an experience to remember. I really enjoyed my time here. I had great neighbors and the staff was great. I had a blast decorating and making it my own. If maintenance had to come to do service checks they were professional and you never even knew they had been in your place. It was peaceful, spacious and I had everything I needed and more. I loved my little corner apartment
I moved here temporarily and from day one I was very welcomed. The community is so peaceful and safe. The common areas are very cleaned and well maintained. The apartment layout is very well organized, the bedrooms are spacious with a comfortable bath and walk in closet.
This place is absolutely beautiful, and everything is upgraded to state of the art keyless entry doors. Can't be happier, best decision I have made when it comes to apartment living. If you're looking for peace of mind then Abberly the place to be!
Everything.... The Staff, Amenities, Spacious Apartments and location. you will not be disappointed.
I'm being living here for more than a year and is a beautiful apartment, really good neighbors, and super quiet. It's a really good place to live.